Baker Steel Trading
Delivery can be made upto 50 miles from Woking, Surrey. If your delivery location is outside this area, then please enter your location below to find your nearest Buy A Beam partner.
Your steel will be available in 3 days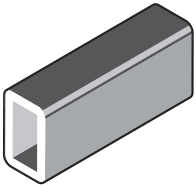 Rectangular Box Section (S235)
Square hollow sections (SHS) and rectangular hollow sections (RHS) are two prime examples of steel tube and box products, with smooth edges and imperviousness to cracking or bending. Much like other hollow section steel (HSS) products, such as steel pipe, or circular hollow sections (CHS), these steel box sections are long, durable metal profiles with expansive cross-sections. The ends of these steel bars are open, offering more of an open tube rather than a solid steel bar.